China has unveiled a 31 foot high statue of Confucius on the East side of Tiananmen Square. He joins Chairman Mao as one of the two Chinese leaders to inhabit Tiananmen Square.
China is establishing hundreds of Confucius Institutes around the world, and is resurrecting Confucius throughout China to emphasize traditional values of respect, harmony, and other Confucian virtues.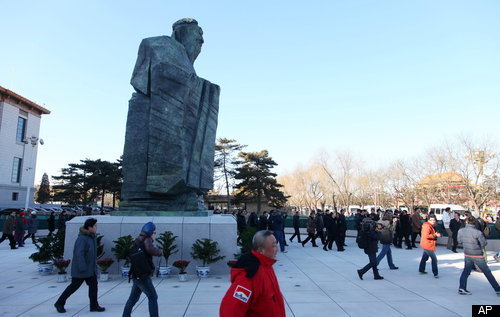 I am delighted with the addition of Confucius to China's central square. In fact, before I went to Hong Kong to study modern Chinese in 1963, I first studied some classical Chinese at Washington University in 1961-62. I read some of the Analects of Confucius and the Classic of Filial Piety. My tutor insisted that I memorize the first chapter in Filial Piety.
Some years ago I had dinner with a high-ranking Chinese official assigned to a diplomatic post in the United States. He remarked that I had made a mistake when I invested the time and effort to study the classics in the original. That was China's official line at the time. I'm glad to see that my early investment in Confucius is now in the avant-garde.